Page 15 - Unfair-To-Care-22-23-Flipbook
P. 15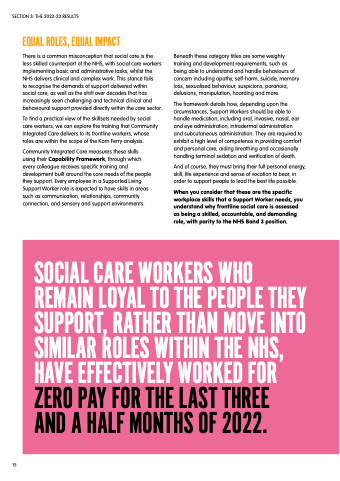 SECTION 3: THE 2022-23 RESULTS
EQUAL ROLES, EQUAL IMPACT
There is a common misconception that social care is the less skilled counterpart of the NHS, with social care workers implementing basic and administrative tasks, whilst the NHS delivers clinical and complex work. This stance fails
to recognise the demands of support delivered within social care, as well as the shift over decades that has increasingly seen challenging and technical clinical and behavioural support provided directly within the care sector.
To find a practical view of the skillsets needed by social care workers, we can explore the training that Community Integrated Care delivers to its frontline workers, whose roles are within the scope of the Korn Ferry analysis.
Community Integrated Care measures these skills using their Capability Framework, through which every colleague receives specific training and development built around the core needs of the people they support. Every employee in a Supported Living Support Worker role is expected to have skills in areas such as communication, relationships, community connection, and sensory and support environments.
Beneath these category titles are some weighty training and development requirements, such as being able to understand and handle behaviours of concern including apathy, self-harm, suicide, memory loss, sexualised behaviour, suspicions, paranoia, delusions, manipulation, hoarding and more.
The framework details how, depending upon the circumstances, Support Workers should be able to handle medication, including oral, invasive, nasal, ear and eye administration, intradermal administration and subcutaneous administration. They are required to exhibit a high level of competence in providing comfort and personal care, aiding breathing and occasionally handling terminal sedation and verification of death.
And of course, they must bring their full personal energy, skill, life experience and sense of vocation to bear, in order to support people to lead the best life possible.
When you consider that these are the specific workplace skills that a Support Worker needs, you understand why frontline social care is assessed as being a skilled, accountable, and demanding role, with parity to the NHS Band 3 position.
  15
SOCIAL CARE WORKERS WHO REMAIN LOYAL TO THE PEOPLE THEY SUPPORT, RATHER THAN MOVE INTO SIMILAR ROLES WITHIN THE NHS, HAVE EFFECTIVELY WORKED FOR ZERO PAY FOR THE LAST THREE AND A HALF MONTHS OF 2022.