Page 17 - Unfair-To-Care-22-23-Flipbook
P. 17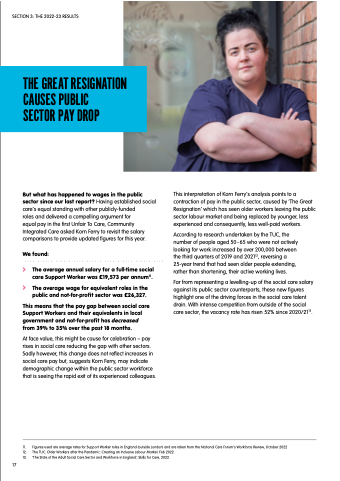 THE GREAT RESIGNATION CAUSES PUBLIC
SECTOR PAY DROP
  SECTION 3: THE 2022-23 RESULTS
But what has happened to wages in the public sector since our last report? Having established social care's equal standing with other publicly-funded
roles and delivered a compelling argument for
equal pay in the first Unfair To Care, Community Integrated Care asked Korn Ferry to revisit the salary comparisons to provide updated figures for this year.
We found:
The average annual salary for a full-time social care Support Worker was £19,573 per annum11.
The average wage for equivalent roles in the public and not-for-profit sector was £26,327.
This means that the pay gap between social care Support Workers and their equivalents in local government and not-for-profit has decreased from 39% to 35% over the past 18 months.
At face value, this might be cause for celebration – pay rises in social care reducing the gap with other sectors. Sadly however, this change does not reflect increases in social care pay but, suggests Korn Ferry, may indicate demographic change within the public sector workforce that is seeing the rapid exit of its experienced colleagues.
This interpretation of Korn Ferry's analysis points to a contraction of pay in the public sector, caused by 'The Great Resignation' which has seen older workers leaving the public sector labour market and being replaced by younger, less experienced and consequently, less well-paid workers.
According to research undertaken by the TUC, the number of people aged 50-65 who were not actively looking for work increased by over 200,000 between the third quarters of 2019 and 202112, reversing a 25-year trend that had seen older people extending, rather than shortening, their active working lives.
Far from representing a levelling-up of the social care salary against its public sector counterparts, these new figures highlight one of the driving forces in the social care talent drain. With intense competition from outside of the social care sector, the vacancy rate has risen 52% since 2020/2113.
    17
11. Figures used are average rates for Support Worker roles in England (outside London) and are taken from the National Care Forum's Workforce Review, October 2022
12. The TUC: Older Workers after the Pandemic: Creating an Inclusive Labour Market. Feb 2022
13. 'The State of the Adult Social Care Sector and Workforce in England', Skills for Care, 2022.