Page 13 - Unfair-To-Care-22-23-Flipbook
P. 13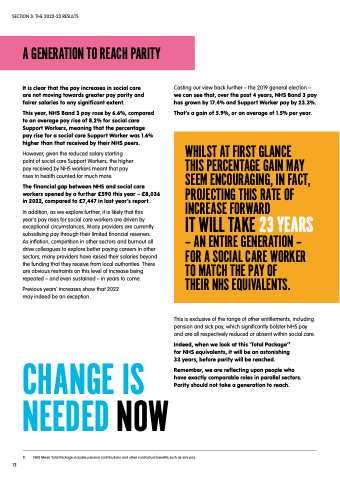 A GENERATION TO REACH PARITY
 WHILST AT FIRST GLANCE THIS PERCENTAGE GAIN MAY SEEM ENCOURAGING, IN FACT, PROJECTING THIS RATE OF INCREASE FORWARD
IT WILL TAKE 23 YEARS – AN ENTIRE GENERATION –
FOR A SOCIAL CARE WORKER TO MATCH THE PAY OF THEIR NHS EQUIVALENTS.
SECTION 3: THE 2022-23 RESULTS
It is clear that the pay increases in social care are not moving towards greater pay parity and fairer salaries to any significant extent.
This year, NHS Band 3 pay rose by 6.6%, compared to an average pay rise of 8.2% for social care Support Workers, meaning that the percentage pay rise for a social care Support Worker was 1.6% higher than that received by their NHS peers.
However, given the reduced salary starting point of social care Support Workers, the higher pay received by NHS workers meant that pay rises in health counted for much more.
The financial gap between NHS and social care workers opened by a further £590 this year – £8,036 in 2022, compared to £7,447 in last year's report.
In addition, as we explore further, it is likely that this year's pay rises for social care workers are driven by exceptional circumstances. Many providers are currently subsidising pay through their limited financial reserves. As inflation, competition in other sectors and burnout all drive colleagues to explore better paying careers in other sectors, many providers have raised their salaries beyond the funding that they receive from local authorities. There are obvious restraints on this level of increase being repeated – and even sustained – in years to come.
Previous years' increases show that 2022 may indeed be an exception.
CHANGE IS NEEDED NOW
9. NHS Mean Total Package includes pension contributions and other contractual benefits such as sick pay 13
Casting our view back further – the 2019 general election –
we can see that, over the past 4 years, NHS Band 3 pay has grown by 17.4% and Support Worker pay by 23.3%.
That's a gain of 5.9%, or an average of 1.5% per year.
This is exclusive of the range of other entitlements, including pension and sick pay, which significantly bolster NHS pay and are all respectively reduced or absent within social care.
Indeed, when we look at this 'Total Package'9 for NHS equivalents, it will be an astonishing 33 years, before parity will be reached.
Remember, we are reflecting upon people who have exactly comparable roles in parallel sectors. Parity should not take a generation to reach.