Page 42 - Unfair-To-Care-22-23-Flipbook
P. 42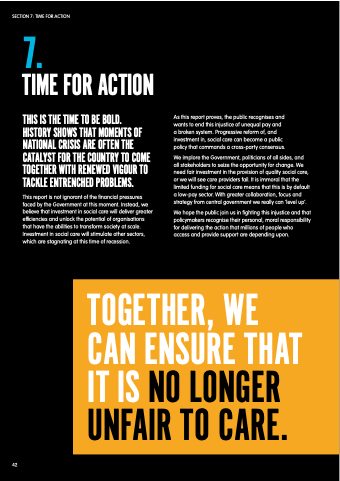 SECTION 7: TIME FOR ACTION
7.
TIME FOR ACTION
THIS IS THE TIME TO BE BOLD. HISTORY SHOWS THAT MOMENTS OF NATIONAL CRISIS ARE OFTEN THE CATALYST FOR THE COUNTRY TO COME TOGETHER WITH RENEWED VIGOUR TO TACKLE ENTRENCHED PROBLEMS.
This report is not ignorant of the financial pressures faced by the Government at this moment. Instead, we believe that investment in social care will deliver greater efficiencies and unlock the potential of organisations that have the abilities to transform society at scale. Investment in social care will stimulate other sectors, which are stagnating at this time of recession.
As this report proves, the public recognises and wants to end this injustice of unequal pay and a broken system. Progressive reform of, and investment in, social care can become a public policy that commands a cross-party consensus.
We implore the Government, politicians of all sides, and all stakeholders to seize the opportunity for change. We need fair investment in the provision of quality social care, or we will see care providers fail. It is immoral that the limited funding for social care means that this is by default a low-pay sector. With greater collaboration, focus and strategy from central government we really can 'level up'.
We hope the public join us in fighting this injustice and that policymakers recognise their personal, moral responsibility for delivering the action that millions of people who
access and provide support are depending upon.
 42
TOGETHER, WE CAN ENSURE THAT IT IS NO LONGER UNFAIR TO CARE.