Page 41 - Unfair-To-Care-22-23-Flipbook
P. 41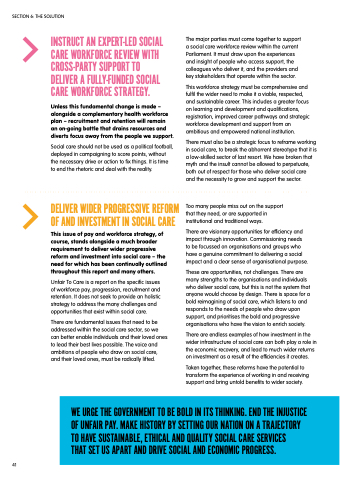 SECTION 6: THE SOLUTION
INSTRUCT AN EXPERT-LED SOCIAL CARE WORKFORCE REVIEW WITH CROSS-PARTY SUPPORT TO DELIVER A FULLY-FUNDED SOCIAL CARE WORKFORCE STRATEGY.
Unless this fundamental change is made – alongside a complementary health workforce plan – recruitment and retention will remain
an on-going battle that drains resources and diverts focus away from the people we support.
Social care should not be used as a political football, deployed in campaigning to score points, without the necessary drive or action to fix things. It is time to end the rhetoric and deal with the reality.
DELIVER WIDER PROGRESSIVE REFORM OF AND INVESTMENT IN SOCIAL CARE
This issue of pay and workforce strategy, of course, stands alongside a much broader requirement to deliver wider progressive reform and investment into social care – the need for which has been continually outlined throughout this report and many others.
Unfair To Care is a report on the specific issues of workforce pay, progression, recruitment and retention. It does not seek to provide an holistic strategy to address the many challenges and opportunities that exist within social care.
There are fundamental issues that need to be addressed within the social care sector, so we can better enable individuals and their loved ones to lead their best lives possible. The voice and ambitions of people who draw on social care, and their loved ones, must be radically lifted.
The major parties must come together to support a social care workforce review within the current Parliament. It must draw upon the experiences and insight of people who access support, the colleagues who deliver it, and the providers and key stakeholders that operate within the sector.
This workforce strategy must be comprehensive and fulfil the wider need to make it a viable, respected, and sustainable career. This includes a greater focus on learning and development and qualifications, registration, improved career pathways and strategic workforce development and support from an ambitious and empowered national institution.
There must also be a strategic focus to reframe working in social care, to break the abhorrent stereotype that it is a low-skilled sector of last resort. We have broken that myth and the insult cannot be allowed to perpetuate, both out of respect for those who deliver social care and the necessity to grow and support the sector.
Too many people miss out on the support that they need, or are supported in institutional and traditional ways.
There are visionary opportunities for efficiency and impact through innovation. Commissioning needs to be focussed on organisations and groups who have a genuine commitment to delivering a social impact and a clear sense of organisational purpose.
These are opportunities, not challenges. There are many strengths to the organisations and individuals who deliver social care, but this is not the system that anyone would choose by design. There is space for a bold reimagining of social care, which listens to and responds to the needs of people who draw upon support, and prioritises the bold and progressive organisations who have the vision to enrich society.
There are endless examples of how investment in the wider infrastructure of social care can both play a role in the economic recovery, and lead to much wider returns on investment as a result of the efficiencies it creates.
Taken together, these reforms have the potential to transform the experience of working in and receiving support and bring untold benefits to wider society.
    41
WE URGE THE GOVERNMENT TO BE BOLD IN ITS THINKING. END THE INJUSTICE OF UNFAIR PAY. MAKE HISTORY BY SETTING OUR NATION ON A TRAJECTORY TO HAVE SUSTAINABLE, ETHICAL AND QUALITY SOCIAL CARE SERVICES
THAT SET US APART AND DRIVE SOCIAL AND ECONOMIC PROGRESS.