Page 40 - Unfair-To-Care-22-23-Flipbook
P. 40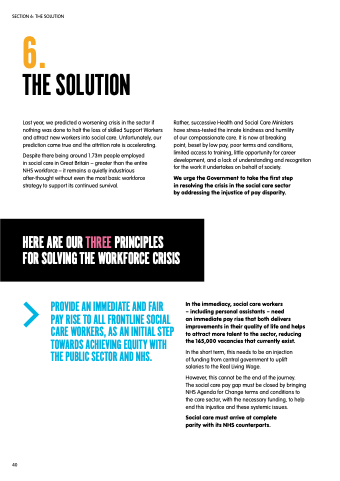 HERE ARE OUR THREE PRINCIPLES FOR SOLVING THE WORKFORCE CRISIS
SECTION 6: THE SOLUTION
40
6.
THE SOLUTION
Last year, we predicted a worsening crisis in the sector if nothing was done to halt the loss of skilled Support Workers and attract new workers into social care. Unfortunately, our prediction came true and the attrition rate is accelerating.
Despite there being around 1.73m people employed in social care in Great Britain – greater than the entire NHS workforce – it remains a quietly industrious after-thought without even the most basic workforce strategy to support its continued survival.
Rather, successive Health and Social Care Ministers
have stress-tested the innate kindness and humility
of our compassionate core. It is now at breaking
point, beset by low pay, poor terms and conditions,
limited access to training, little opportunity for career development, and a lack of understanding and recognition for the work it undertakes on behalf of society.
We urge the Government to take the first step in resolving the crisis in the social care sector by addressing the injustice of pay disparity.
PROVIDE AN IMMEDIATE AND FAIR PAY RISE TO ALL FRONTLINE SOCIAL CARE WORKERS, AS AN INITIAL STEP TOWARDS ACHIEVING EQUITY WITH THE PUBLIC SECTOR AND NHS.
In the immediacy, social care workers
– including personal assistants – need
an immediate pay rise that both delivers improvements in their quality of life and helps to attract more talent to the sector, reducing the 165,000 vacancies that currently exist.
In the short term, this needs to be an injection of funding from central government to uplift salaries to the Real Living Wage.
However, this cannot be the end of the journey.
The social care pay gap must be closed by bringing NHS Agenda for Change terms and conditions to the care sector, with the necessary funding, to help end this injustice and these systemic issues.
Social care must arrive at complete parity with its NHS counterparts.