Page 34 - Unfair-To-Care-22-23-Flipbook
P. 34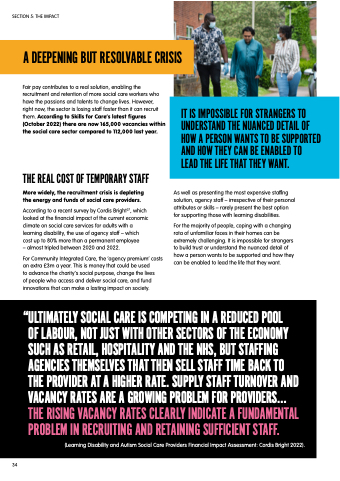 A DEEPENING BUT RESOLVABLE CRISIS
 IT IS IMPOSSIBLE FOR STRANGERS TO UNDERSTAND THE NUANCED DETAIL OF HOW A PERSON WANTS TO BE SUPPORTED AND HOW THEY CAN BE ENABLED TO LEAD THE LIFE THAT THEY WANT.
 "ULTIMATELY SOCIAL CARE IS COMPETING IN A REDUCED POOL
OF LABOUR, NOT JUST WITH OTHER SECTORS OF THE ECONOMY SUCH AS RETAIL, HOSPITALITY AND THE NHS, BUT STAFFING AGENCIES THEMSELVES THAT THEN SELL STAFF TIME BACK TO THE PROVIDER AT A HIGHER RATE. SUPPLY STAFF TURNOVER AND VACANCY RATES ARE A GROWING PROBLEM FOR PROVIDERS... THE RISING VACANCY RATES CLEARLY INDICATE A FUNDAMENTAL
PROBLEM IN RECRUITING AND RETAINING SUFFICIENT STAFF.
(Learning Disability and Autism Social Care Providers Financial Impact Assessment: Cordis Bright 2022).
 SECTION 5: THE IMPACT
34
Fair pay contributes to a real solution, enabling the recruitment and retention of more social care workers who have the passions and talents to change lives. However, right now, the sector is losing staff faster than it can recruit them. According to Skills for Care's latest figures (October 2022) there are now 165,000 vacancies within the social care sector compared to 112,000 last year.
THE REAL COST OF TEMPORARY STAFF
More widely, the recruitment crisis is depleting the energy and funds of social care providers.
According to a recent survey by Cordis Bright37, which looked at the financial impact of the current economic climate on social care services for adults with a learning disability, the use of agency staff – which cost up to 80% more than a permanent employee
– almost tripled between 2020 and 2022.
For Community Integrated Care, the 'agency premium' costs an extra £3m a year. This is money that could be used
to advance the charity's social purpose, change the lives
of people who access and deliver social care, and fund innovations that can make a lasting impact on society.
As well as presenting the most expensive staffing solution, agency staff – irrespective of their personal attributes or skills – rarely present the best option for supporting those with learning disabilities.
For the majority of people, coping with a changing rota of unfamiliar faces in their homes can be extremely challenging. It is impossible for strangers to build trust or understand the nuanced detail of how a person wants to be supported and how they can be enabled to lead the life that they want.