Page 30 - Unfair-To-Care-22-23-Flipbook
P. 30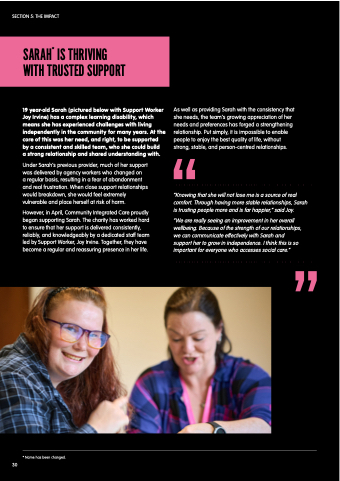 SARAH* IS THRIVING WITH TRUSTED SUPPORT
 SECTION 5: THE IMPACT
19 year-old Sarah (pictured below with Support Worker Joy Irvine) has a complex learning disability, which means she has experienced challenges with living independently in the community for many years. At the core of this was her need, and right, to be supported by a consistent and skilled team, who she could build
a strong relationship and shared understanding with.
Under Sarah's previous provider, much of her support was delivered by agency workers who changed on
a regular basis, resulting in a fear of abandonment and real frustration. When close support relationships would breakdown, she would feel extremely vulnerable and place herself at risk of harm.
However, in April, Community Integrated Care proudly began supporting Sarah. The charity has worked hard to ensure that her support is delivered consistently, reliably, and knowledgeably by a dedicated staff team led by Support Worker, Joy Irvine. Together, they have become a regular and reassuring presence in her life.
As well as providing Sarah with the consistency that she needs, the team's growing appreciation of her needs and preferences has forged a strengthening relationship. Put simply, it is impossible to enable people to enjoy the best quality of life, without strong, stable, and person-centred relationships.
"Knowing that she will not lose me is a source of real comfort. Through having more stable relationships, Sarah is trusting people more and is far happier," said Joy.
"We are really seeing an improvement in her overall wellbeing. Because of the strength of our relationships, we can communicate effectively with Sarah and support her to grow in independence. I think this is so important for everyone who accesses social care."
          30
* Name has been changed.