Page 20 - Unfair-To-Care-22-23-Flipbook
P. 20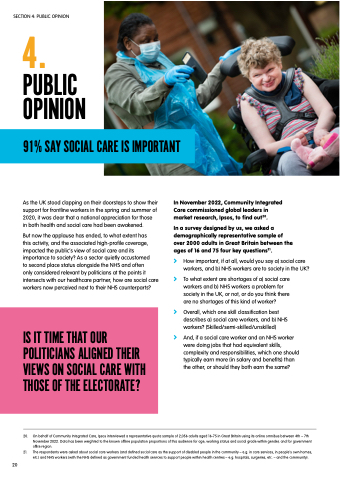 91% SAY SOCIAL CARE IS IMPORTANT
 IS IT TIME THAT OUR POLITICIANS ALIGNED THEIR VIEWS ON SOCIAL CARE WITH THOSE OF THE ELECTORATE?
 SECTION 4: PUBLIC OPINION
4.
PUBLIC OPINION
As the UK stood clapping on their doorsteps to show their support for frontline workers in the spring and summer of 2020, it was clear that a national appreciation for those in both health and social care had been awakened.
But now the applause has ended, to what extent has
this activity, and the associated high-profile coverage, impacted the public's view of social care and its importance to society? As a sector quietly accustomed
to second place status alongside the NHS and often
only considered relevant by politicians at the points it intersects with our healthcare partner, how are social care workers now perceived next to their NHS counterparts?
In November 2022, Community Integrated Care commissioned global leaders in market research, Ipsos, to find out20.
In a survey designed by us, we asked a demographically representative sample of over 2000 adults in Great Britain between the ages of 16 and 75 four key questions21.
How important, if at all, would you say a) social care workers, and b) NHS workers are to society in the UK?
To what extent are shortages of a) social care workers and b) NHS workers a problem for society in the UK, or not, or do you think there are no shortages of this kind of worker?
Overall, which one skill classification best describes a) social care workers, and b) NHS workers? (Skilled/semi-skilled/unskilled)
And, if a social care worker and an NHS worker were doing jobs that had equivalent skills, complexity and responsibilities, which one should typically earn more (in salary and benefits) than the other, or should they both earn the same?
 20
20. On behalf of Community Integrated Care, Ipsos interviewed a representative quota sample of 2,056 adults aged 16-75 in Great Britain using its online omnibus between 4th – 7th November 2022. Data has been weighted to the known offline population proportions of this audience for age, working status and social grade within gender, and for government office region.
21. The respondents were asked about social care workers (and defined social care as the support of disabled people in the community – e.g. in care services, in people's own homes, etc.) and NHS workers (with the NHS defined as government funded health services to support people within health centres – e.g. hospitals, surgeries, etc. – and the community).